The story of Sisal is first and foremost a story of Italian enterprise at its finest. Over the years, Sisal has created a succession of popular, high-quality games, including the l Totocalcio, the Totip and, more recently, SuperEnalotto and Win for Life.

The success of Sisal's ideas underpins the financial results and reputation of a company that has built a relationship of trust and credibility with over 14 million Italian consumers over more than sixty years in business, developing and managing games with expertise and high standards of integrity, transparency and security: all essential characteristics for companies operating in a heavily regulated sector subject to strict state controls.

Sisal today is a major Italian group operating in the Gaming and Payment Services sector and in 2017:
reported a turnover of about €17.9bn, over 1,800 employees and a network of more than 48,000 points of sale
imanages a broad offering of on- and offline games: lotteries, betting, casino games and gaming machines

offers the public in excess of 500 payment services, through its network of retailers and over 80 partners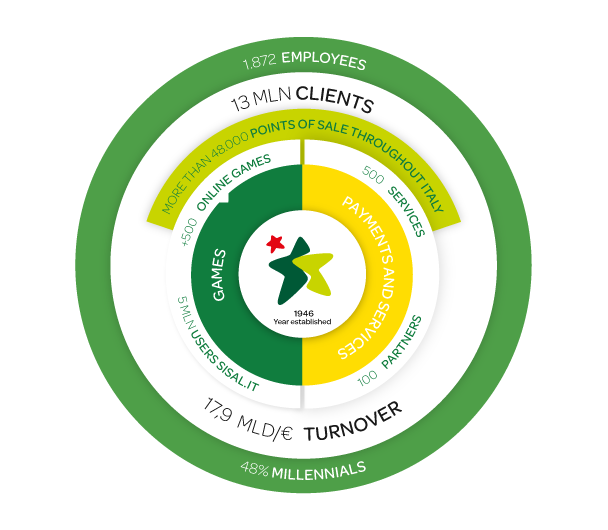 Update at December 31st, 2017
Group Strategy
We innovate by tradition and this approach has allowed us to diversify and generate value over time, is the strategic lever through which we want to grasp the new challenges linked to digitisation.
Reference Markets
The Group operates in two markets - games with cash prizes and the "permeable" market for payment services, which together reached a value in excess of € 224 billion in 2017.
Our Offering
Sisal was the first Italian company to operate in the gaming sector as a state concessionaire and is now present in Italy in lotteries, retail gaming and online games.