Letter to stakeholders
Since the first play slip back in 1946, Sisal has never stopped working to achieve a balance between economic and social responsibility, combining its business mission with the ability to create value for all stakeholders and managing business activities transparently and responsibly as part of an ongoing conversation with all interested parties.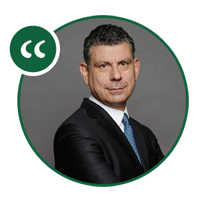 The company has grown apace with Italian society, interweaving its own story with the narrative of a country that over the last seventy years has faced both challenges - including the difficult process of post war reconstruction - and opportunities - most recently the digitalisation of the country. As it did at the outset, Sisal intends to continue to play a role in society, generating not only business opportunities, but also collective value and well-being.
For this reason, we have decided to include contributions by several stakeholder representatives in the 2016 Sustainability Report. Their comments give us a better understanding of which major global transformations we need to monitor closely today, so that we can operate effectively according to our guiding principles of innovation, valuing people, dialogue and transparency.

The promotion of a balanced and aware gaming model continues to be one of our top priorities. We want to satisfy our consumers' needs, offering products that are secure and also taking account of their impact in terms of sustainability. Which is why support for the Responsible Gaming programme is a priority for us, with a special focus on entertainment, the prohibition of gaming for children, special care for the most vulnerable categories of consumer, prevention and the fight against illegal gaming. These efforts have been recognised with the renewal of our prestigious Responsible Gaming certifications by EL - European Lotteries and WLA - World Lottery Association, at the highest level, based on International Responsible Gaming Standards.

In the era of digital transformation, we use innovation as a lever to drive development and diversification. The evolutionary process underway is changing the nature of consumers and the public, creating new needs and expectations that make it essential for businesses and the public administration to evolve and embrace digital business models. We have seized the opportunity and challenge offered by change to implement a carefully planned strategy that has driven our SisalPay brand to become Italy's leading Payment Services provider. Our model is underpinned by an innovative "digital-hybrid" approach that makes Sisal a preferred point of contact for businesses, the public administration and members of the public, based on a nationwide network of retailers and digital solutions. Working in this direction with Agenzia per l'Italia Digitale [Agency for Digital Italy], in 2016 we introduced electronic payments to Regional, Municipal and Public Administrations using the so-called NodoPA system, available at over 40,000 SisalPay points. This agreement, which gives the public an easy and secure way to settle taxes, fines, healthcare charges, car road tax, school fees and other payments with the Public Administration, has created the country's most extensive network for sending physical payments to public institutions.

The value of responsibility, dialogue and sharing has become increasingly strategic for us, with a view to ensuring lasting growth by fostering an ability to generate value for the business, for employees, for the community and for all our stakeholders.
One of various employee-related initiatives developed in 2016 was the "Volta" project, a smart working initiative aimed at encouraging a good work-life balance that won the Smart Working Award 2016 from the Politecnico di Milano School of Management's Monitoring Unit. In 2016, Sisal's community relations were enriched by the "We all football" project, which aims to raise awareness about gender equality and equal opportunities in sport, as well as to promote the social values of playing sport. Our commitment to responsible and transparent reporting has been recognised this year once again, with Sisal ranking among the top ten companies in Italy for the quality of the information it publishes on the web, in the unlisted company category of the special Webranking drawn up by Lundquist.

These important results and acknowledgements will encourage us to work even harder to maintain our standards of excellence and confirm our leadership in corporate social responsibility.
Certifications
In 2015, Sisal continued to develop the Responsible Gaming programme in full compliance with the strict international standards defined by European Lotteries and the World Lottery Association at maximum certification level four.
Interview
Milan, 29 April 2018
The importance of relations
Sisal is a company born of the determination shown by three journalists to re-establish a common purpose and strengthen a country destroyed by the war.