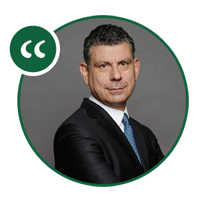 We believe that the synergy between our management skills and our culture of sustainability, the transparency of our actions and our governance, and the ability to create shared value underpin the bond of trust with our stakeholders, representing a decisive strategic factor for lasting growth.
We are an evolving business that revolves around its stakeholders
People are our most precious resource and we are committed to promoting their well-being and development. With the "Digital Transformation" programme, we intend to promote the use of innovative technology and digital culture. We also carefully monitor new trends in the employment market: today, about 40% of our employees are involved in smart working initiatives that enable them to improve their work-life balance, while the "Co-Generation" project puts us at the forefront of the process in Italy of promoting generational diversity.
Sisal's commitment to social issues, rooted in the spirit shown by its three journalist founders, is reflected in our way of doing business: we work side-by-side with our community on numerous initiatives in the areas of Sport, Culture, support for Talent and Scientific Research. One particularly innovative project was launched in 2018 to sustain Italian contemporary art, a point of Italian excellence that we continue to undervalue. Although we have a limited impact on the environment, we are convinced everyone must be committed to ensuring the world we leave for future generations is fit to live in. That is why we work to reduce energy consumption and emissions and to use resources sustainably.
In our capacity as Payment Institute and with our offering of SisalPay payment solutions, we are actively contributing to Italy's digital evolution. Our network represents a preferred point of contact with the public, offering people a safe and simple way to pay taxes, traffic fines, healthcare charges, road tax and similar using the PagoPA platform.
We promote gaming that is responsible, safe and secure
We are a leading player in the gaming sector and our absolute priorities have always been the promotion of responsible gaming, consumer protection, and the fight against illegal gaming. Our Responsible Gaming Programme, certified according to the highest international standards, is addressed to ensuring that gaming is and continues to be simple fun. We put a lot of time and effort into initiatives to train our people and to support assistance programmes for problem players.
We have seized the challenge of change through business diversification and a focus on Italy's digital evolution.
The diversification strategy has brought us success in the payment and cash services market, where our SisalPay brand is now the leading player, serving over 13 million consumers. In 2017 we invested over €20 million to introduce new services and advanced new technology, contributing to the modernisation of our network, which has a broad-based local presence across Italy and over 40,000 points of sale, including cafes and bars, newsstands and specialist retailers.
To share our vision and commitment with all stakeholders, the 2017 Sustainability Report describes our initiatives and projects and contains contributions from various leading experts on business topics, like the challenge of sustainable development, the central importance of reputation, and the role of innovation and digital transformation.
Certifications
In 2015, Sisal continued to develop the Responsible Gaming programme in full compliance with the strict international standards defined by European Lotteries and the World Lottery Association at maximum certification level four.
Interview
Milan, 29 April 2018
The importance of relations
Sisal is a company born of the determination shown by three journalists to re-establish a common purpose and strengthen a country destroyed by the war.