Values


A company wich aims to be a leader in Social Responsibility must be guided by strong values and grounded in ethics.
Sisal's values are:
We play as a team: we all do our utmost to achieve our goals together
We respect and care for our consumers: our consumers' satisfaction and trust are our best reward
We believe in people and their diversity: the value of people and the richness of diversity are our winning combination
We are responsible and excellent: we aim to achieve excellence in a sustainable and responsible way
We innovate to grow: we are constantly committed to innovation and growth. A Group that believes in the value of research invests in its future.
Each of these values reflects the company's mission, expressing the beliefs of Sisal people and guiding their daily activities.
Sustainability Report 2016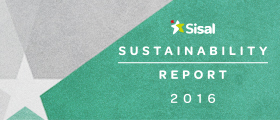 The Sustainability Report reports on and communicate information about responsible business management and Social Responsibility.
Find out more