There are two main types of betting: fixed-odds and totalizator betting. The most popular form of fixed-odds betting is sports betting, while horse racing reigns supreme in the field of totalizator betting. The outcome of a bet depends on an infinite number of variables and it is therefore impossible to determine an average probability of winning.
Sports betting
Fixed-odds bets can be placed on all the main Italian and international sporting events. One or more types of bet can be associated with each event (e.g. a football match, a Formula 1 race, etc.). Each type offers odds for all the possible outcomes of the event players decide to bet on.
Players choose the odds to bet on and their payout is calculated on the basis of those odds, multiplied by the amount of the bet, if the relative outcome corresponds to the final result of the event.
Sports bets can be played:
Horse race betting
Most totalizator betting is associated with Italian and international horse races.
These bets differ from fixed-odds bets because the odds vary right up until the start of the race.
As a result, players who choose a horse as their favourite only know how much they have won at the end of the race. The odds vary according to the total amount bet by players on each horse and the players who bet on the winning horse split the pool between them.

Horse racing bets can be played: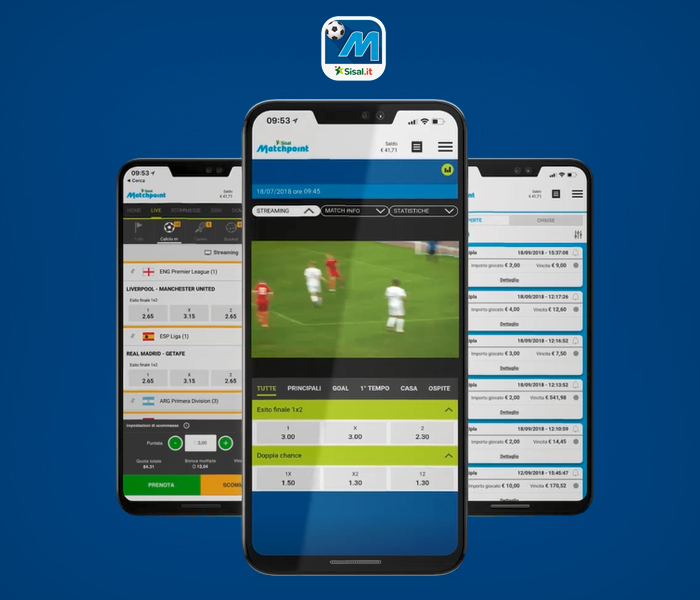 The App of Sisal Matchpoint
With the Sisal Matchpoint App is possible to bet on over 100,000 events a year or book your bet to play at the point of sale.
A number of sporting events are also available live streaming.
Fantamister
This is the game of skill that lets all sports lovers put their football trainer expertise to the test by picking their own ideal team every day. After choosing the championship to play in, you pick your 11 players based on the real time performance of your team and opponents.

As well as being able to collect your winnings immediately, without having to wait for the end of the championship, another feature of Fantamister is how the points are calculated. Newspaper reports are replaced by a system that ranks players on how they actually play, based on the number of goals and goal-assists, but also tackles won and lost during the 90-minute match and many other parameters.

For more information go to Sisal.it.
The Responsible Gaming Programme
The programme has been introduced with the aim of building a shared model of secure and reliable gaming that revolves around the prevention of problem gaming.
Play safe
The fight against illegal gaming represents a fundamental commitment in Sisal's sustainability strategy.