Piccolo Teatro
The central role of people and their leisure time is one of the priorities of our responsible approach: our cultural initiatives, which revolve around the world of art and the theatre, strive to promote the value of Italian art and encourage the development of young people according to values of equality, respect and socialisation.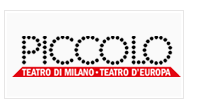 Since 2009, Sisal has been offering the Piccolo Teatro di Milano its support for initiatives that provide opportunities for young people to meet cultural leaders.
In particular, Sisal is Special Partner to Chiostro Nina Vinchi di via Rovello, in Milan, which is a favorite meeting point where young people, students and theatre lovers can socialise.
A TEATRO CON SISAL
In the framework of our partnership with the Piccolo Teatro, we also promote the "A teatro con Sisal" initiative as an integral part of our corporate welfare offering, with the aim of spreading the culture of theatre and of giving those interested in acting the chance to find out more and share their passion with their co-workers.
In 2017, we also offered our support to Spazio Teatro No'hma - Teresa Pomodoro, Teatro Olimpico di Roma, Amici Della Scala, and the Radio Italia open air concert in Milan and Palermo.
Manifesta 12
Sisal Group is proud to be Main Partner of Manifesta 12, a long-term project to promote the value of contemporary art and culture in Italy.
The State of Contemporary art
The State of Contemporary Art
The infographic illustrates the state of contemporary art, highlighting the main locations where art can be enjoyed and critical success factors.