GAMES
Total Gaming Market revenue grew, with a CAGR* of +6.6%. The reasons for this are based on two factors:
The decision to increase the payout, or the amount returned to players in the form of winnings, totalled €83bn in 2018, or 82.4% of total revenues, a rise of 6.1% on 2017. This indicator is also positive in the medium term, with a CAGR of +7.3%.

Sharp growth in the online market, with turnover in excess of €31bn and 23% CAGR, representing 30% of total revenues. Year-on-year growth in 2018 stood at 16.7%.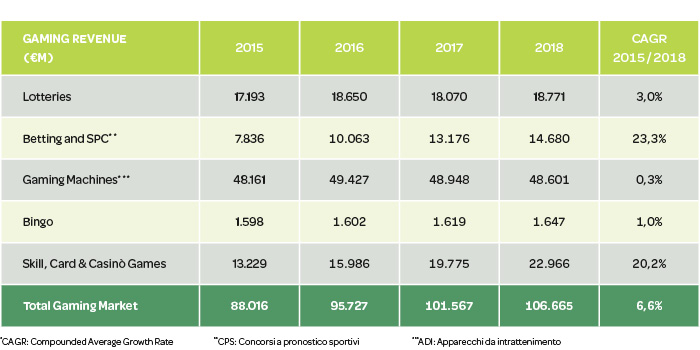 *CAGR: Compounded Average Growth Rate **SPC: Sports Prediction Contests ***Internal market estimates
PAYMENT SERVICES
The payment services market comprises three distinct segments: top-ups and cards, payments, and financial services.

An analysis of the various market segments reveals the increasing importance of Financial Services. In 2018, revenue totalled €30bn, with CAGR in the period 2015-2018 standing at about +16.5%.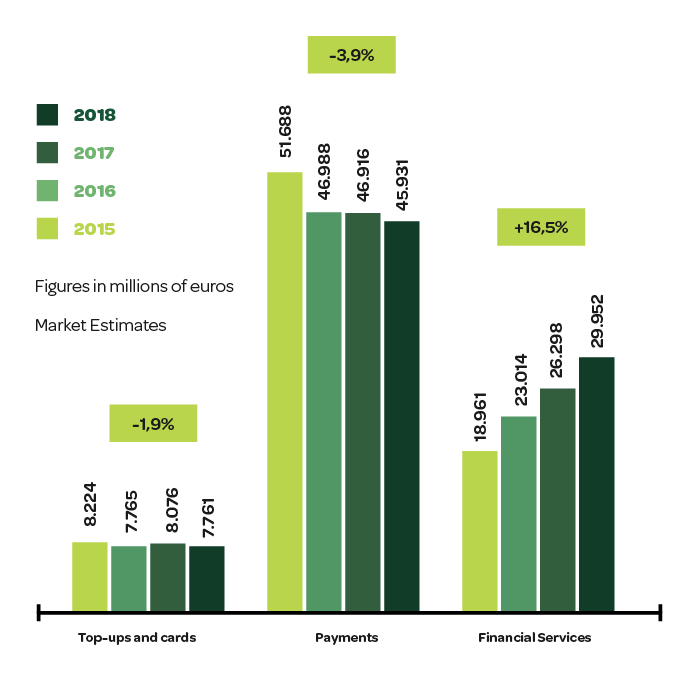 For more information, see the Sisal Consolidated Annual report 2018.
Company Strategy
Innovations is part of our DNA, and this approach has allowed us to diversify and generate value over time. Innovation provides us with strategic leverage in order to fully exploit the opportunities and challenges posed by digitisation.
2020 Consolidated Financial Report