Established in Milan on September 3, 1945, just three months after the end of the Second World War, Sisal has been a synonym for over 70 years of innovation, Italianness, passion, responsibility and excellence.
SISAL:
a partial acronym for Sport Italia Società A responsabilità Limitata;
the first private Italian company with a State licence to operate in the gaming industry;
on May 5, 1946, Sisal launches its first innovation: Totocalcio, the football prediction system that has become part of Italian society;
it contributes to the rebirth of Italian sport, rebuilding stadiums and sports centers destroyed during the war;
in just one year it creates a network of 11 thousand retail points (1947);
today the network comprises a remarkable 45 thousand points of sale.
With turnover exceeding 16 thousand euros, Sisal Group makes an important tax contribution to the Italian State and continues to report growth and diversification.
1995: FS (Italian State Railways) tickets also available for purchase at Sisal retail points;

2002: Qui Servizi Sisal can be used for mobile phone top-ups and small payments;

2013: SisalPay, the network with over 500 online and in-store payment services;

2016: with turnover of 8.7 billion euros, SisalPay confirms its position as Sisal Group's main business.
Realising the full value of the human capital in Sisal and using it to achieve corporate goals is an integral part of our Group's mission.
1.872 employees;
hours of training annually: 28,153 hours of training delivered in 2017
generations: four generations co-exist:


The guidelines followed by Sisal people have been defined on a collaborative basis through a wide-ranging initiative that has led to the creation of the Sisal Charter of Values.
We play as a team: each one of us gives his or her best, so that we all win together.
We respect and care for our customers: our Customers' satisfaction and trust are our best reward.
We believe in people and in their diversity: the value of our People and their rich diversity are a winning combination.
We are responsible and excellent: sustainability and respect for the rules define the framework in which we aim to achieve excellence.
We innovate to grow: our focus is on innovation and growth. A group that truly believes in research invests in its future.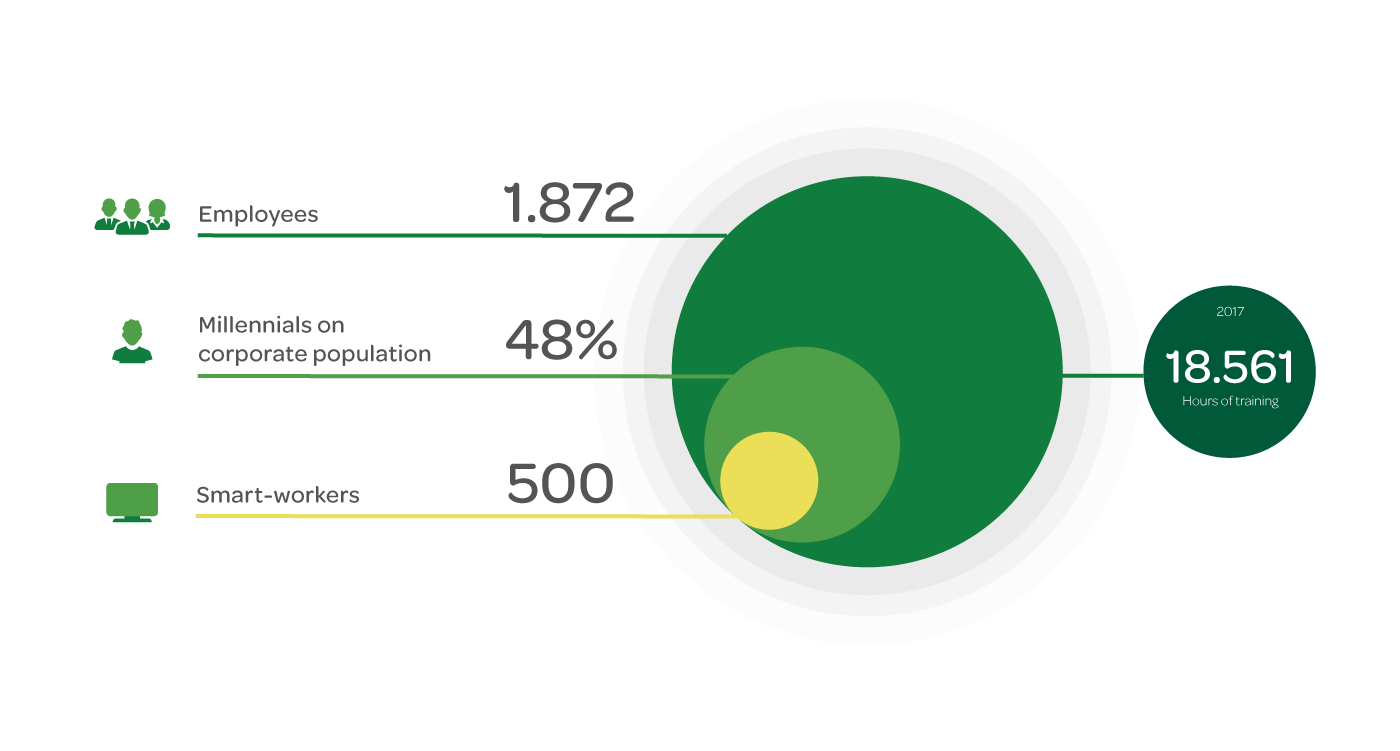 Update at December 31st, 2017
In 1946, from the dream and the intuition of three sports journalists was born Sisal. The first Italian company to operate in the gaming industry as a Concessionaire of the State.
Group Strategy
We innovate by tradition and this approach has allowed us to diversify and generate value over time, is the strategic lever through which we want to grasp the new challenges linked to digitisation.
Reference Markets
The Group operates in two markets - games with cash prizes and the "permeable" market for payment services, which together reached a value in excess of € 224 billion in 2017.