SISAL SUPPORTS ITALY
At Sisal, we have never stopped supporting Italy.
Born on 5 May 1946, when the genius of three sports journalists, fuelled by the desire to relaunch a country and by Italians' passion for football, gave life to the Totocalcio football pools and its famous 1X2.
New hope, for an Italy striving to build a new future.
Just as before, today it remains our mission to actively contribute to the relaunching of our country, motivated by the values that inspired the birth of Sisal.
Today we support everyone who upholds responsible behaviour for the benefit of the community and for those who continue to commit themselves to our health: doctors, nurses and civil servants, who have been working tirelessly months on end against the Coronavirus.
We continue to thank them through our concrete help: in the past months we have already initiated a wide range of measures to support civil servants and the numerous charities active in the Lombardy area.
We will continue to support them and act as a team, because together we are stronger.
WILL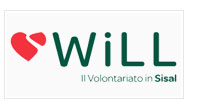 During a team building day in summer 2017, a group of co-workers presented a sustainability project proposing that Sisal employees be offered the chance to dedicate a portion of their working hours to voluntary initiatives.
We thought that such a beautiful idea could not be left unexplored, so we conducted an internal survey and over 800 of our co-workers signed up for the initiative with great enthusiasm.

What we then needed was a partner with expertise in the world of voluntary work to suggest the right approach and establish relationships with the right Associations.

We found this partner with MilanoAltruista, which acts in the Milan area to promote voluntary work and spread the value of altruism and solidarity, building a bridge between the public and non-profit organisations.

Thanks to this partnership, Will was born, Sisal's voluntary portal. Through a website, employees are given the chance to donate a few working hours each month to one or more causes proposed by the associations participating in the MilanoAltruista network.
Manifesta 12
Sisal Group is proud to be main partner of Manifesta 12, a long-term project to promote the value of contemporary art and culture in Italy, in line with the Group's mission to support talent and innovation.
Il Piccolo Teatro
Since 2009, Sisal has been offering the Piccolo Teatro di Milano its support for initiatives that provide opportunities to meet cultural leaders.
Sport
In Sisal, sport rhymes with fun and fair play. The positive values associated with sport are the same on which Sisal built its development programme for local initiatives.