Garuccio, Sisal Group Head of Strategy: "Enthusiastic partners of Magic Wand"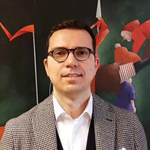 SisalPay is one of the partners of Magic Wand, the new Fintech and Insurtech startup incubator recently launched by Digital Magics. The programme's objective is "to intercept the most promising startups with the potential to generate value, in order to find areas for cooperation and to assess investment opportunities", commented Carlo Garuccio, for the last two years Sisal Group Head of Strategy, serving all the Group's business lines.

SisalPay, Sisal's top-up and payment services brand, has been investing in the development of digital payment systems for years now, providing support for vertical initiatives like Magic Wand that encourage the diffusion of a new culture of innovation and fill the structural gap in Italy in the area of digitalization.

10 Italian startups have been selected in the framework of the Magic Wand project. And although they are very different as businesses, they all excel equally in terms of the potential of the idea, the uniqueness of the market, and the quality of the team.

SisalPay's task as partner will be to contribute to the development and growth of the startups, by providing them with mentoring based on a coopetitive approach, i.e. healthy competition and cooperation between the parties.