THE VALUE CHAIN FOR GAMES WITH CASH PRIZES
Gaming market analysis is based on these indicators:
Turnover = total spending by players, i.e. all bets placed.
Payout = the amount returned to players in the form of winnings. This is established by the regulator for each game and expressed as a percentage of turnover.
Gross Gaming Revenue, GGR = the amount spent by Italians net of winnings. The ne plus ultra of gaming market indicators, it measures players' real spending and is calculated as the difference between turnover and payout.
Gross expenditure is split between:
Tax as established by law, applied to each individual game.
Net Gaming Revenue, NGR, payable to Licensees, the distribution network (bricks and mortar and online) and suppliers of additional services.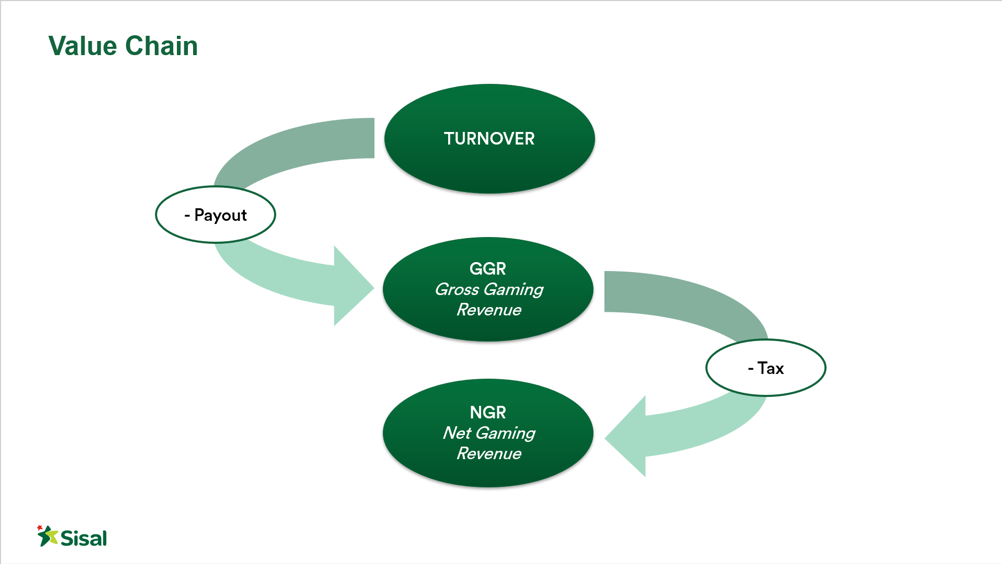 BREAKDOWN OF GAMING REVENUE AMONG SUPPLY CHAIN OPERATORS
Lottery games
Licensee: the entity selected with a public procedure by the Italian Customs and Monopolies Agency (ADM) to manage Lottery Games (GNTN) and granted a maximum nine-year license; the License Agreement between Sisal Spa and ADM was stipulated on June 26, 2009.
Retailer/Online seller: the owners of bricks and mortar retailers (cafes, tobacconists, agencies, gaming venues) or online operations (websites) authorised by the Licensee to collect revenue from the games covered by the License.