THE VALUE CHAIN FOR GAMES WITH CASH PRIZES
Gaming market analysis is based on these indicators:
Turnover = total spending by players, i.e. all bets placed.
Payout = the amount returned to players in the form of winnings. This is established by the regulator for each game and expressed as a percentage of turnover.
Gross Gaming Revenue, GGR = the amount spent by Italians net of winnings. The ne plus ultra of gaming market indicators, it measures players' real spending and is calculated as the difference between turnover and payout.
Gross expenditure is split between:
Tax as established by law, applied to each individual game.
Net Gaming Revenue, NGR, payable to Licensees, the distribution network (bricks and mortar and online) and suppliers of additional services.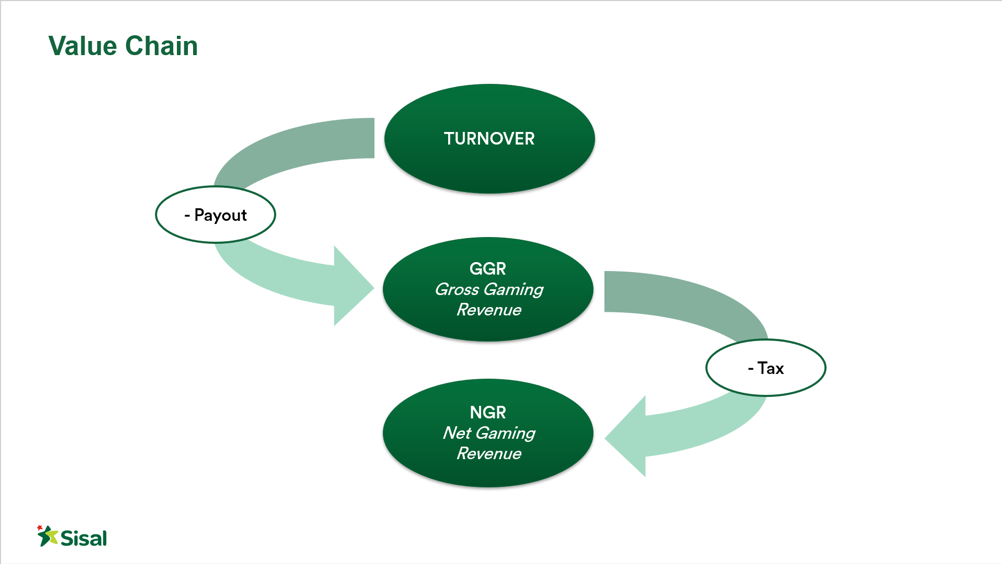 REMOTE GAMING SUPPLY CHAIN
Games online
Licensee: the entity selected by ADM in a public tender, to which the activities and functions are assigned for the remote operation of the following public games: sports betting, horse race betting, sports and horse race prediction competitions, national horse racing games, games of skill including card games in tournament form, bingo, betting on simulated events, fixed odds games of chance, card games in forms other than tournaments, reel games, fixed odds betting with direct interaction between players; the Agreement between Sisal Entertainment S.p.A. and ADM was stipulated on November 11, 2011 and runs for nine years.
Operator: while not envisaged by the license, the remote gaming sector includes game and gaming platform suppliers that stipulate contracts with the various licensees to offer gaming products. In order to be used to collect revenue, the games and gaming platforms must be certified by Inspection Bodies approved by ADM.