Companies
The holding company
Sisal Group S.p.A., a company subject to the direction and coordination of Schumann Investments S.A. and entered in the register of Payment Institutions pursuant to article 114 septies, D.Lgs. 385/93 - code 33500.1, provides direction and coordination for Sisal Group companies. The company also, as approved by the Bank of Italy, supplies the aforementioned payment services, which include: the settlement of bills issued by national and local utilities (gas, electricity, water, etc.) and telephone companies; the settlement of traffic fines and the TV licence fee; top-ups for prepaid payment cards. All these services are managed through the Sisal S.p.A. retail network.
Documents regarding Sisal Group S.p.A.:
The other operating companies
Sisal S.p.A., a company subject to the direction and coordination of Sisal Group S.p.A., manages numerous games, including SuperEnalotto, SiVinceTutto SuperEnalotto, Vinci per la Vita-Win for Life and Eurojackpot, through its own network of over 45,000 retailers.
The company also markets and sells a broad range of third party products and services, including Italian and international phone cards, top-ups for accounts with leading Italian telephone operators, and pay-per-view cards for digital terrestrial television services.
In September 2010, Sisal signed a memorandum of understanding for the "Reti Amiche" project, designed to increase the number of touchpoints between the public and local and national authorities. Sisal has offered access to its commercial and online network to allow the public to make use of public services through an easy-to-access infrastructure with a broad footprint.
Sisal Entertainment S.p.A. - a single shareholder company - connects over 40,000 entertainment machines (of which it owns about 15,000) to the nationwide online network. Since September 2010, Sisal Wincity entertainment venues, based on the Eat, Drink & Play concept, have been offering the public the opportunity to eat, drink, play and watch events and shows in a pleasant, safe and secure setting. Since November 2013, the company has operated in the sports, horse racing and event betting sector through over 4,000 points of sale, including 200 directly managed agencies and shops, 1,000 sports betting corners and over 3,000 horse race betting corners. Sisal Entertainment S.p.A. also offers Tris, Totocalcio, Totogol, Big Match and, through the internet and mobile channels, Sisal Poker, Sisal Bingo, Sisal Skill Games, Sisal Casinò and Sisal Quick Games.

In August 2014, Sisal Entertainment S.p.A. acquired a 100% stake in the capital stock of
ACME Srl.
Headquartered in Santorso in the Italian province of Vicenza, the company has been designing, producing and maintaining gaming machines since 2005. As a result of the acquisition, Sisal Entertainment S.p.A. has enriched its offering in the retail gaming segment in terms of both the production and procurement of gaming machines.
Sustainability Report 2016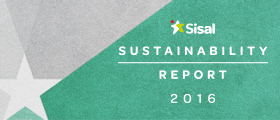 The Sustainability Report reports on and communicate information about responsible business management and Social Responsibility.
Find out more