Sisal's Sustainability Model drives every initiative and action we undertake and helps us to achieve our sustainability goals.
In 2019, against the backdrop of major organisational changes, we made a pledge to fulfil to a sustainability programme in accordance with national and international best practices. One of the main steps in this path was the reassessment of our model in order to align it with our strategic needs.

The model is structured in 3 parts:

Why
Our sustainability commitment, the driving force behind the many initiatives we have developed.
This goal is at the heart of Sisal's entire business.

What
The 4 pillars of sustainability represent the areas of action of our commitment.
They encompass various fields, identified through engagement with our main stakeholders, and address 8 SDGs, which are considered strategic for the business and which Sisal is especially equipped to implement.
Each pillar is in turn divided into specific intervention areas, each with its own dedicated strategy, specific objectives and actions, for which reports of the most important results are drafted.

How
Our sustainability tools, which we use to plan the various strategies and develop specific initiatives.
Furthermore, they serve to assess how our actions are aligned with our sustainability goals and to plan future developments. These tools are specifically: the Sustainability Governance System, comprising the Sustainability Committee and the Committee for Controlling and Sustainability; Certifications (ISO quality certifications and Responsible Gaming Certification); Reporting and Materiality Assessment in terms of stakeholder engagement and definition of strategic priorities, as well as fulfilment of the main SDGs and assurance for the Sustainability Report.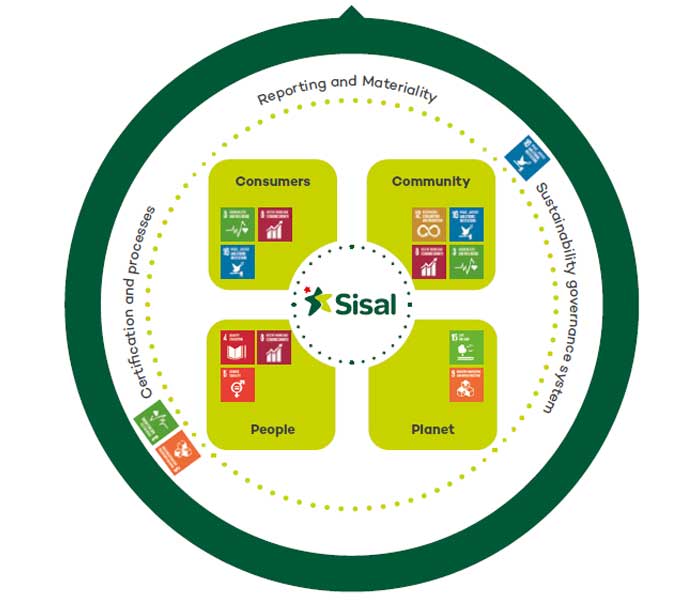 Our commitment to the SDGs
The Sustainable Development Goals are 17 objectives enacted by the United Nations as part of the 2030 Agenda for Sustainable Development, endorsing global commitments which everyone is called to make their specific contribution towards.
At Sisal, we too can and want to make our contribution to achieving these global objectives.
By analysing the Global Agenda and the 7 material sustainability areas, we have identified 8 SDGs to which we contribute through our projects and initiatives.
As depicted in the table, each area can refer to several Global Goals, which goes to show the great impact our business has in relation to responsible growth.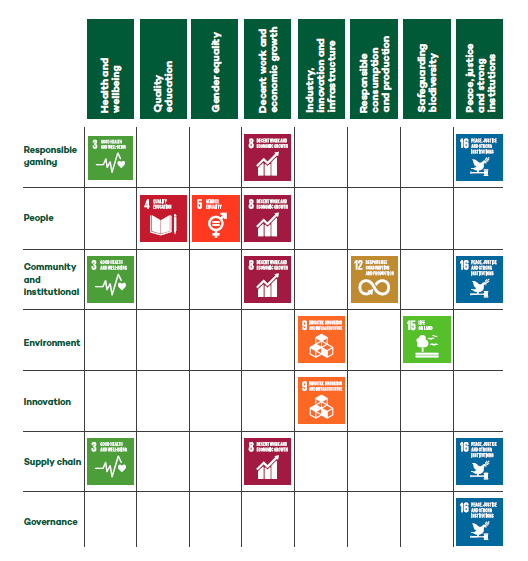 The Responsible Gaming Programme
The programme was introduced with the aim of building a shared model of safe and responsible gaming that focuses on the prevention of gambling problems.
The importance of relations
Sisal is a company born of the determination of three journalists to rekindle a spirit of common purpose and to strengthen a country devastated by the Second World War.
2019 Sustainability Report