SuperEnalotto is a simple and fun game that has become somewhat of a national tradition. Over its 20-year history it has inspired the dreams of many Italians with its multi-million jackpot.
In 2016, SuperEnalotto was redesigned with three big changes:
The jackpot is always big: draw after draw, the jackpot grows even faster and reaches record figures.
Two's a charm: guessing even just two of the six numbers drawn wins you a prize of at least €5.
Instant €25 prizes: many prizes can be won instantly at the moment of purchase.
How to play
SuperEnalotto is simple to play: just choose 6 out of 90 numbers; it costs €1 and the minimum play is one combination.

You can also add SuperStar to your combination, the optional game that can be played with SuperEnalotto.
The SuperStar is a number between 1 and 90 that gives you the chance of multiplying the SuperEnalotto winnings by up to 100 times.

You can play both in the more than 39,000 Sisal retail points throughout Italy, as well as online on one of the authorised sites or on our App.

What are the prize categories?
The winning combination consists of 6 numbers plus the extra Jolly number, which is drawn after the first 6 from the same set.

To win, you need to guess 2, 3, 4 or 5 of the 6 numbers of the winning combination. By guessing 5 of the 6 numbers and the Jolly number, you win the 5+Jolly prize category. By guessing all 6 numbers, you win the jackpot.

By guessing the SuperStar number, the SuperEnalotto prizes are multiplied and you can also win with 0, 1 or 2 correct numbers.

In addition to the winning categories, linked to the drawing of the traditional combinations, SuperEnalotto, from October 2021, will be renewed to offer its players a more engaging experience and new winning opportunities by introducing WinBox. An innovative and responsible approach, through a renewed gaming experience, which starts from the moment of the bet and arrives at the draw of the traditional sixth set, adding the possibility of competing for a Second Chance, in the unlikely case of no win.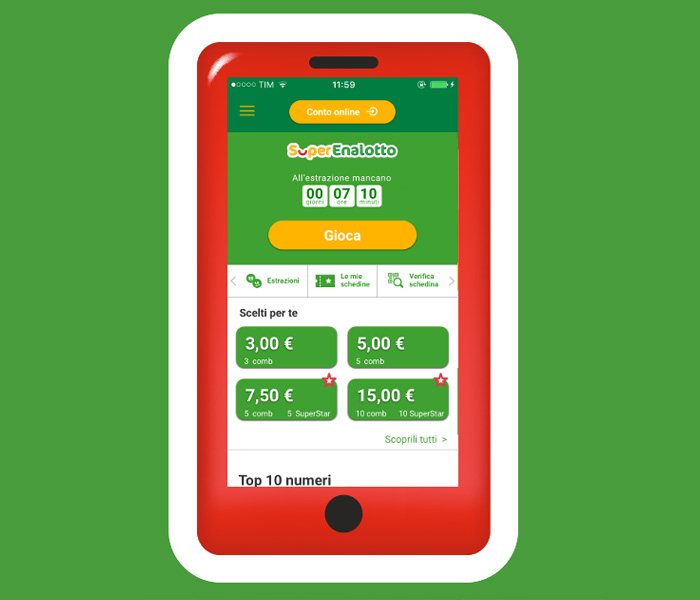 App SuperEnalotto



With the SuperEnalotto App you can also play on mobile, directly from your smartphone or tablet and stay up to date with the SuperEnalotto news.

The SuperEnalotto Official App is available for iOS, Android and Huawei AppGallery.
Rules
You can download the rules at www.superenalotto.it

When do draws take place?
Draws take place at 8pm every Tuesday, Thursday and Saturday, totalling 3 draws a week.