SuperEnalotto, now regarded as a traditional pastime in Italy, is a fun game that's simple to play. For over 20 years, it has been making Italians dream with a jackpot that's always worth millions and is frequently one of the highest in the world.
How to play
SuperEnalotto is simple to play: just choose 6 out of 90 numbers at more than 45 thousand Sisal retail points in neighbourhoods across Italy, online, or using the new SuperEnalotto App on mobile devices.
And there are more possibilities with SuperStar, the optional complementary game for SuperEnalotto. SuperStar is a number too, between 1 and 90, which can multiply SuperEnalotto winnings by up to 100 times.
It costs €1 to play and the minimum play is a combination. Adding SuperStar costs only €0.50 more per combination.

What are the prize categories?
The winning combination consists of six numbers, plus the extra 'Jolly' number drawn after the first six in the same draw.
To win you need to guess 2, 3, 4 or 5 of the 6 numbers drawn in the winning combination. Guessing five of the six numbers drawn and the Jolly number wins eligibility for the 5+Jolly prize category. Guessing all six numbers drawn wins the Jackpot.
Guessing the SuperStar number multiplies the SuperEnalotto prizes and you can also win at SuperEnalotto with 0, 1 or 2.
In addition to the prize categories, which depend on the winning combination drawn, SuperEnalotto also offers rewards in the form of immediate wins: if the numbers played on SuperEnalotto include all those in the magic box on the receipt or online, you win an immediate prize of €25.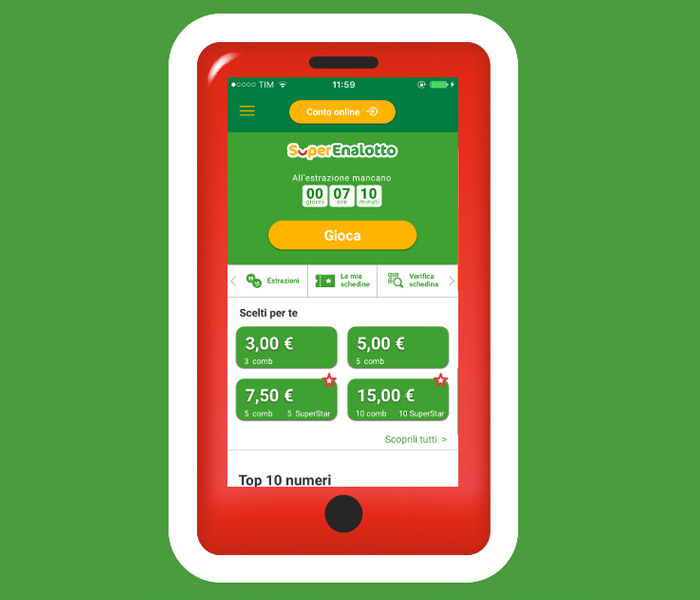 App SuperEnalotto
The App SuperEnalotto is free and easy to play. Available for iOs and Android, you need a gaming account with an AAMS approved retailer to play.

With the SuperEnalotto App you can:


fill out your play slip and play your numbers online d
check up on all the SuperEnalotto play slips
locate the Points of Sale nearest to you
check up on your winnings by scanning the QR Code
save your favourite numbers
check up on the winning combination in the five most recent draws
Rules
Download the rules from www.superenalotto.it

When do draws take place?
Draws take place at 8pm every Tuesday, Thursday and Saturday, for a total of three per week.
The Responsible Gaming Programme
The programme has been introduced with the aim of building a shared model of secure and reliable gaming that revolves around the prevention of problem gaming.
Play safe
The fight against illegal gaming represents a fundamental commitment in Sisal's sustainability strategy.
Our Offering
Sisal was the first Italian company to operate in the gaming sector as a state concessionaire and is now present in Italy in lotteries, retail gaming and online games.