Eurojackpot is the first Jackpot game in Italy born out of the collaboration with 18 European countries. The jackpot is always millionaire and grows fast thanks to the contribution of the participating nations.
In 2011 Italy, Germany, Finland, Denmark, Slovenia and the Netherlands decided to design a game that could excite and unite European players. The Eurojackpot adventure began with the first draw in March 2012. In the following years, the stirring success of the game pushed other countries to join, up to a total of 18 participants: Italy, Germany, Finland, Denmark, Slovenia, the Netherlands, Estonia, Spain, Sweden, Norway, Croatia, Iceland, Latvia, Lithuania, Hungary, the Czech Republic, Slovakia and Poland.
10 years after its launch, Eurojackpot has been renewed by introducing three new important features:

The jackpot is even richer: it always starts at least from €10 million but grows fast up to €120 million.
The Euronumbers to choose from have increased from 10 to 12.
The draw has doubled: every Tuesday and Friday.
How to play
Eurojackpot has been renewed but playing remains very simple: just choose from at least 5 numbers out of 50 and at least 2 Euronumbers out of 12.

The cost of the bet is €2 and you can play in Lottery shops, in the over 39,000 stores of the Sisal network widely distributed throughout the country, online on one of the authorized sites, or through the official Eurojackpot App.

What are the prize categories?
Eurojackpot offers 12 prize categories, from 5+2 up to 2+1.

By guessing 5 numbers, plus 2 Euronumbers, you win the always millionaire jackpot.
Even when it is won, the Jackpot always restarts at least from €10 million and quickly reaches the maximum limit of €120 million. Furthermore, when the Jackpot exceeds €120 million, the part exceeding this amount is added to the prize pool for the next lower category.
The other prize categories are 5+1, 5+0, 4+2, 4+1, 3+2, 4+0, 2+2, 3+1, 3+0, 1+2, 2+1.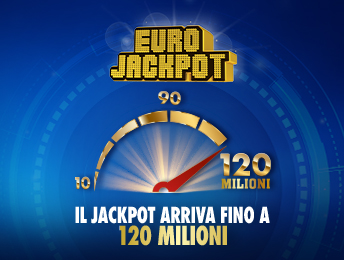 Rules
The game rules can be downloaded from the website www.eurojackpot.it
When do draws take place?
The appointment with the draws is every Tuesday and Friday, at 8:00 PM.