Locking down system and platform security
Sisal Group offers Players the chance to play online on the Company's websites and digital applications, using leading edge technology to ensure that gaming is safe and that minors are prohibited from playing, as well as to promote a responsible and balanced approach to gaming.
In order to ensure that the gaming environment is safe and secure, Sisal continues to develop tools to fight any fraudulent use of personal and credit card information, as well as to prevent potential money laundering, by ensuring an extremely high level of security across all the company's websites.
Controls include:
An account statement with all credit and debit transactions in the last three months, available in the "My Account" section of the Player's personal area:
Self-limitation and temporary/permanent self-exclusion.

Sisal's online gaming account management system has been certified in compliance with the "Guidelines for certification", version 1.1, issued on June 7, 2012 by ADM and by TST-GLI (Technical Systems Testing – Gaming Laboratories International). The TST-GLI testing procedures ensure that games comply with the transparency and fairness principles required by law. TST-GLI is one of the bodies approved by ADM to verify the compliance of remote gaming platforms and games. As provided by Decree Law no. 158, September 13, 2012, game websites indicate the probability of winning assigned to players for each type of game.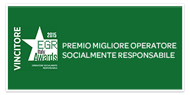 In 2015, Sisal.it was one of the winners at the EGR Italy Awards, the annual event organised to recognise and celebrate the achievements of the operators and suppliers of innovative and creative services on the regulated online gaming market.
Sisal Group's gaming website was awarded the prize as Best Operator for customer service and care, Best Operator for Social Responsibility and Best Casino Operator.


Certificates and regulations
All game platforms and RNGs (Random Number Generators) must necessarily be certified for approval by the Italian Customs and Monopolies Agency (AAMS). Certification refers to the external gaming platform, the integration between the external platform and Sisal, and any changes after the launch.

Development is certified by world-leading suppliers and certification entities to garantee maximum levels of security and total impartiality.
Gaming is a problem?
The first step towards responsible, balanced gaming is an awareness of one's own approach to it.
Fighting fraud
Match-fixing is one of Sisal's main targets in the fight against illegal gaming.